What is the feature of continuous waste pyrolysis plant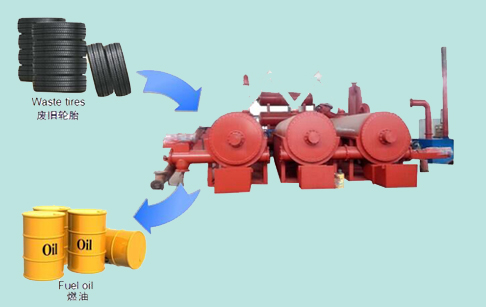 Continuous waste tyre pyrolysis plant
1) Safety: Our continuous waste tyre pyrolysis plant is equipped with many safety measures such as pressure gauge, safety valve and alarming devices. If there is extra pressure inside the reactor, alarming system will ring, if no worker hear this, do not worry, the safety valve will automatically release pressure. Besides oil-water separator and anti-back fire device stop the waste gas back into reactor so that we avoid the possibility danger of explosion.


2) Higher oil yield rate: Continuous waste tyre pyrolysis adopted the most advanced independent cooling system. We concentrate on decreasing the cooling time and increase cooling area so that we can cool more oil gas and get more oil. Besides we use catalyst when we pyrolysis tire, so that we can make fully pyrolysis for tires and increase make full use of the tire materials and make good quality oil. At same time with our 20 years experience of making tire oil, our engineer can transfer our best operation skills which how can make more oil.


3)Environmental friendly : Continuous waste tyre pyrolysis plant have a whole set of carbon black discharging system which can collect the carbon black under the sealing condition it is very clear. After collecting carbon black into bags, we can use carbon black fuel machine to turn the carbon black into fuel then u can make money from carbon black. Besides smoke from burning coal or wood can be filtered by our dust removing system, draught fan and cooling chimney will further remove the dust. At last emission from chimney no color no smelling and no pollution


4) Energy saving: Continuous waste tyre pyrolysis plant is equipped with waste gas (methane, ethane, propane, hydrogen etc) recycling system, which can recycle the gas back into the furnace to heat reactor. Fuel is also a cost for customers, this system can save customers' cost at same time we protect our environment


5) Fully Automatic: Continuous waste tyre pyrolysis plant is fully automatic. Our continuous waste tyre pyrolysis plantis equipped with auto-feeder, which can put 10 ton tires into reactor with 2-3 hours instead of manpower loading with 6-7 hours. From feeding to discharging all the process is automatic. We called "Idiot Plant", it means our plant is very easy to operate, as it is very highly automatic. If you want to know more about our continuous waste tyre pyrolysis plant please send us inquiry, we will offer more details



6) After-sales service: After purchasing our plant, we would send our engineer to instruct your workers to install your plant at the same time training your workers on how to operate the plant correctly. Each of our engineer from our company has many years experience of installation and making tire oil. Operating continuous waste tire pyrolysis plant correctly decides tire oil yield rate directly and your workers'safety.
Leave your message for waste oil to diesel plant, we'll get back to you ASAP