Is used oil recyclable? What can used oil be used for?
According to statistics, millions of gallons of used oil must be disposed of each year, like used motor oil, waste engine oil, used lube oil, etc. These used oils are rich in heavy metals and are classified as hazardous waste by many countries. Thankfully, used oil refinery plant offers used oil owners a safe way to dispose of their used oil and makes the used oil a recyclable and profitable money-maker.
Waste engine oil/used lube oil,
The used oil refinery plant can realize the environmentally friendly recycling of various kinds of used oils by distillation, which can effectively convert waste oil into new energy for automobiles or as industrial heating. This is the most popular way of recycling used oils, and it has good economic benefits. Diesel fuel is the main final product obtained by recycling used oil through our used oil refinery plant. The diesel fuel can be widely used as a good industrial heating fuel for boiler plants, glass plants, cement plants, steel plants, etc. It can also be used for diesel engines with a speed of less than 2000r/min, such as heavy machinery, generators, etc. Besides that, we can also obtain the final product asphalt, which can be used for paving the roads or sold to the asphalt recycling plant for further refinery.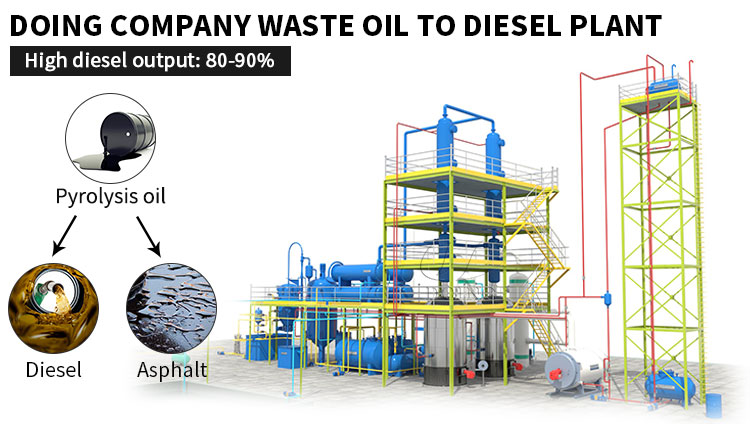 DOING waste oil refining plant 3D picture
Henan Doing Company is a veteran manufacturing factory with 11 years of experience in the R&D and fabrication used oil refinery plants. Our products are well recognized by customers in 90+ countries and regions. We can provide different solutions to customers on recycling used oil according to used oil quality and customers' actual situation. The oil output of our used oil refinery plant is about 85-90%, besides our oil refining process can also separate 20% petrol from the diesel to produce higher quality diesel.
For more information about used oil recycling, please feel free to send us your enquiry and get the free quote of DOING used oil refinery plants.
Please feel free to leave your contacts here and your privacy is protected. A competitive quotation will be provided according to your detailed requirement within one business day.