What are the steps involved in the used lubricant oil recycling processes?
The waste oil distillation machine can refine many kinds of waste oil into diesel, like used lubricating oil, waste car oil, used engine oil, etc. The whole recycling process steps are similar, including high temperature distillation, oil gas cooling, catalyst deodorization and decolorization.
Next, I will take the used lubricant oil as an example to introduce the used lubricant oil recycling processes in detail so as to help customers learn about waste oil distillation machine.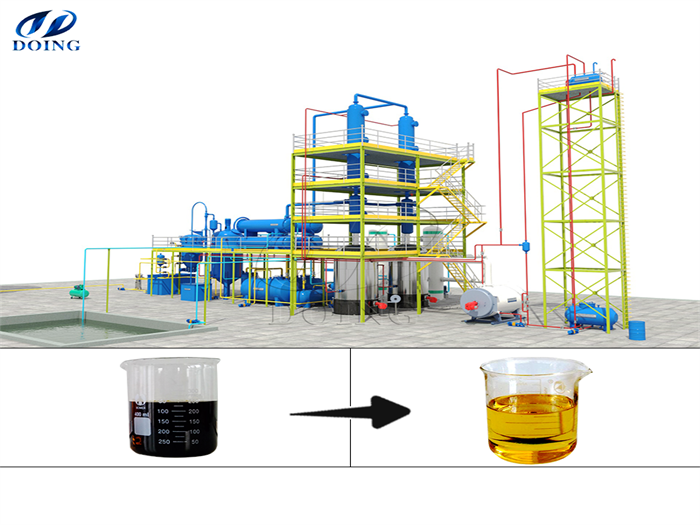 DOING factory waste oil distillation plant 3D picture
1. Heating pretreatment of heat conducting oil
Heat conducting oil circulates throughout the system in preparation for subsequent heating.
2. Heating distillation reactor to produce oil gas and condensing it into liquid oil
Use heat conducting oil and burner to heat the distillation reactor, so that the used lubricant oil produces oil gas, which is condensed into liquid oil through the condensation system (vertical condenser, horizontal condenser).
3. Decolorization and deodorization
The liquid oil in the fuel tank is pumped into the decolorization and deodorization tank through the oil pump to remove the wax and colloid in the liquid oil, and at the same time remove the unpleasant smell of diesel.
4. Exhaust gas treatment
Part of the non-condensable but combustible gas can be recycled for heating the distillation reactor to save fuel.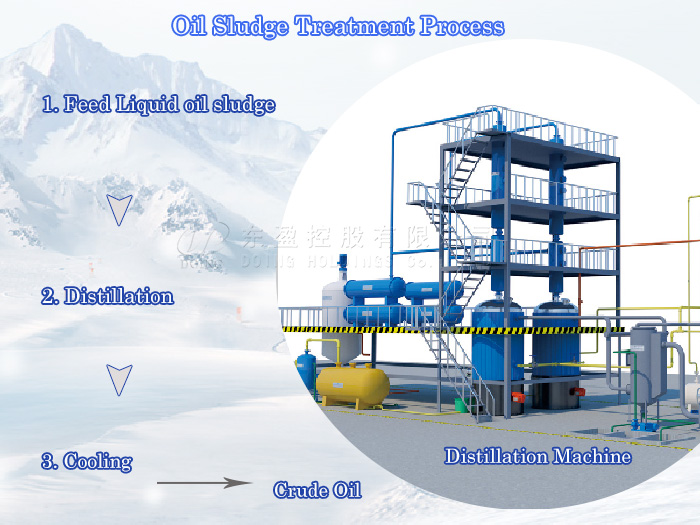 The process of waste oil distillation plant
5. Smoke treatment
The flue gas generated during the fuel combustion process can reach the national gas emission standard after being purified by the flue gas purification system, and will not cause secondary pollution to the environment.
6. Collecting asphalt
After the distillation, the distillation residue in the reactor is asphalt, which can be collected for paving or sold to asphalt plants for further refining.
The above is the text introduction to the used lubricant oil recycling processes. In addition, Doing Group also provides 3D animation videos and project cases videos of waste oil distillation machine for customers' reference.
By virtue of the advantages of 85% high diesel yield, good performance and advanced technology, DOING Group has become the preferential choice to purchase the machines of the customers in 90+ countries. If you are interested in DOING waste oil distillation machines and want to know about more information, please feel free to consult.
Please feel free to leave your contacts here and your privacy is protected. A competitive quotation will be provided according to your detailed requirement within one business day.