How to refine used engine oil?
One used engine oil is that mixed with water, dust, other miscellaneous oil and metal powder and other impurities produced by the wear of parts, resulting in black color, viscosity increase. Another used engine oil refers to those oil which gradually deteriorates and forms of organic acids, colloid and asphalt like substances. There are varieties ways to cope with used engine oil. But if you do not deal it with right and reasonable method, used engine oil will pose potential threat to the environment we live in. DOING will introduce some common dealing method and tell you the best way for dealing used engine oil.

Used engine oil
Directly discard:
The common way for people to cope the used engine oil is directly discarding. People dump used engine oil into river, sea or soil. Though this way can deal with the used engine oil, it will pollute the environment. For example, soil polluted by used engine oil can not be cultivate crop. and water polluted by used engine oil can not be used as drinking water or irrigation water. This way waste not only used engine oil energy , but also water and soil resource.
Dust prevention:
Recycling used engine oil often can be used in prevent dust on the roads because of the adherence of used engine oil. But the used engine oil still will flow into river and soil when it is raining, thus, pollutes the environment.
Incineration:
Used engine oil is combustible oil. It can be burning to deal with. But the gas produced by used engine oil contains polycyclic aromatic oxide. It emission to the air will cause pollution and pose great threat to human health.
All in all, the handing methods provided above is not environment friendly. So,here DOING share a method to you, which both deal used engine oil in environment friendly way and make high profits.
Refining:
Refining is the best and friendly way to hand used engine oil. Refining used engine oil is through used engine oil refining machine to refine. After refining used engine oil, you can get both diesel and asphalt. Diesel is a fuel oil which widely used in generator and heavy machinery like tractors, and also boiler. So, you can sold diesel directly in the market to make profits. Another product produce from used engine oil is asphalt. Asphalt can be used in paving or refinery to refine as another industry product. It is obviously that you can make high profits by selling diesel and asphalt.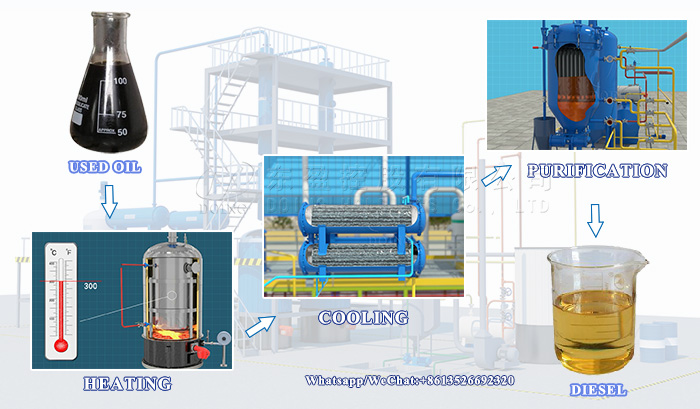 Refining machine
DIONG is a company which specializes in researching and making used engine oil refining machine for more than ten years, and reward many customer's praise. If you want to buy used engine oil refining machine, we can provide professional suggestions to you.
Please feel free to leave your contacts here and your privacy is protected. A competitive quotation will be provided according to your detailed requirement within one business day.