Brazil client ordered one set waste tyre pyrolysis plant from Doing Company
Lastest news, a client from Sao Paulo, Brazil ordered one set 15 TPD waste tyre pyrolysis plant from Doing Company and paid the deposit. This set of 15TPD waste tyre pyrolysis plant can help the client convert 15 tons waste tyres into about 6 tons tyre pyrolysis oil per day.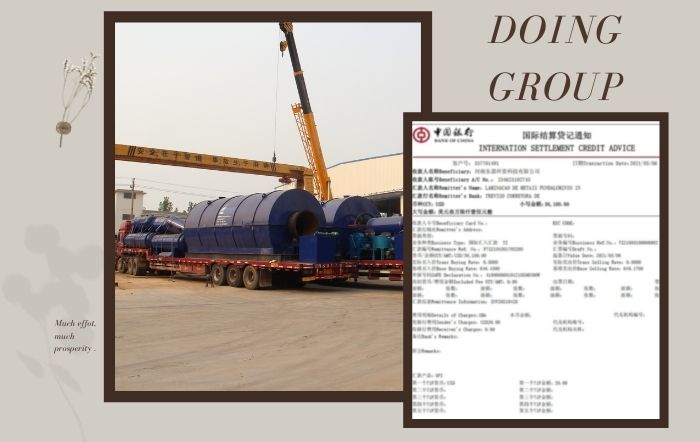 Doing waste tyre pyrolysis plant and the bank statement
The client told us that he owned a aluminum plant, so he had a large demand for fuel oil. He's going to use the tyre pyrolysis oil to melt aluminum and to generate power. He also said that he planed to buy one set waste tyre pyrolysis plant this year, and to buy another waste tyre pyrolysis plant next year to expend his business.
The client was very meticulous. After sending the quotation proposal, the client found a local trading company with a branch in Shanghai. In order to know us better, the Shanghai branch found a third-party quality inspector to inspect our factory, and the inspection report turned out very well, thus he was very satisfied with us.
Doing company has over ten years of experience in waste pyrolysis plant manufacturing industry. We now have two types of pyrolysis plant, namely batch waste pyrolysis plant and full continuous waste pyrolysis plant. They can meet the needs of our customers for different capacities and costs, such as small capacities of 500 kg and 1 ton, medium capacities of 10, 12 and 15 tons and large capacities of 20, 30 and 50 tons.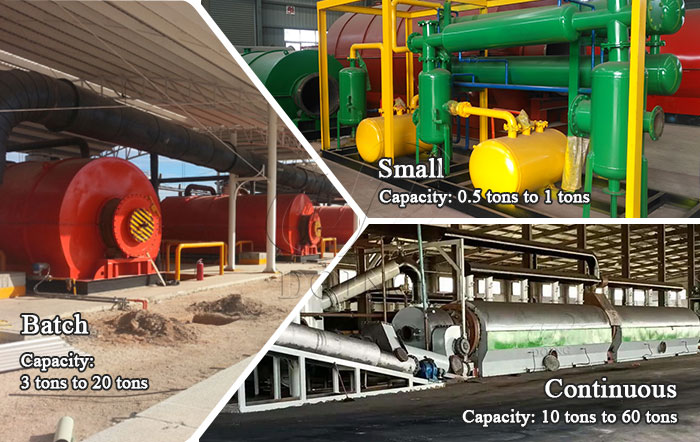 Different capacities of pyrolysis plant
Our factory now is stepping up production of this 15TPD waste tyre pyrolysis plant, and we'll make sure that it will be delivered on schedule. And the delivery news will be update in time. Please continue to follow us.
Please feel free to leave your contacts here and your privacy is protected. A competitive quotation will be provided according to your detailed requirement within one business day.