A Mexican customer order a set of 15TPD waste oil distillation plant from DOING company
Congratulations! On August 10, 2022, a Mexican customer ordered a new 15TPD waste oil distillation plant from DOING factory.
The customer is a solid material company in Guadalajara, Mexico, who is interested in a waste oil refining project and wants to know more about the equipment. Therefore, on May 27, 2022, the customer contacted us through our company website.
Waste oil distillation plant can refine waste oil into diesel, which is a better fuel oil and has a better market value. It mainly consists of control cabinet, heat transfer oil system, vertical reactor, vertical and horizontal condensers, oil tanks, water seal device, decolorization & deodorization tower, etc. Recently, Doing Group has developed an advanced waste oil distillation plant with a high oil yield of about 90%.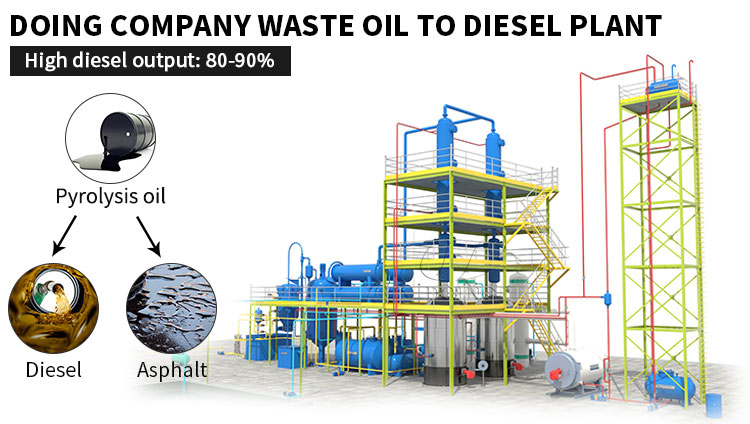 DOING waste oil distillation plant 3D picture
During the second period, the customer saw many other local peer manufacturers, but considering the company's strength, export experience and equipment quality, he finally chose to cooperate with me.
Through video with customers, our business manager introduced the details of the equipment in detail, including the raw materials required by the equipment, equipment products and uses, etc.
Through many contacts with the customer, the customer also learned that we have rich export experience, and we also have related projects of waste oil distillation plant in Mexico. In addition to the first time, we also carefully analyzed the profit of the project and the specific plan with the customer. Customers also trust us, mainly focusing on equipment price and strength. We meet the requirements of this Mexican customer, so we decided to buy a 15TPD waste oil waste oil distillation plant from our company on August 30.
Henan Doing is a professional manufacturer and supplier of advanced waste oil distillation plant, we can provide turnkey service including sales, installation, commissioning and after-sales, to satisfy you in all aspects. If you are interested in our machines, please contact us to get the latest quotation.
Please feel free to leave your contacts here and your privacy is protected. A competitive quotation will be provided according to your detailed requirement within one business day.