Carbon black magnetic separator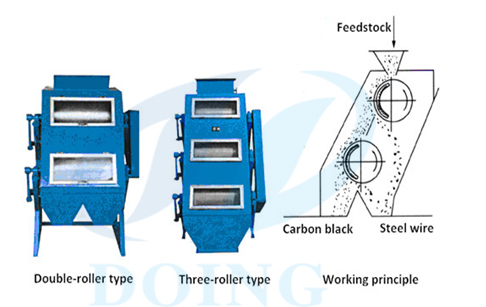 Factory direct sale contact number
Product introduction of carbon black magnetic separator


Carbon black magnetic separator is a kind of magnetic separator specially designed for processing dry powdery materials. With open movement composite magnetic system, this carbon black magnetic separator has the separation process of increased magnetic strength and rotating speed, and not sticky cylinder, not wrapped regiment, also has a high output and sorting static effect.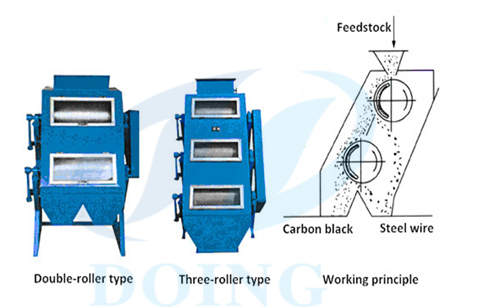 Carbon black magnetic separator
This carbon black magnetic separator adopts from one to two rollers to increase the magnetic strenth and capacity, with continuous and automatic separation process to separate iron and steel from carbon black powder. The internal structure adopts unique magnetic circuit design with high performance permanent magnet ndfeb materials as magnetic source, which has strong magnetic field and big suction, thus to get high separation rate. This magnetic separator also can be used for sorting abrasives, refractory materials, nonmetal ore dressing, food, feed, chemical raw materials and other powdery materials.
Technical parameter of carbon black magnetic separator
Item

Model

Roller
Diameter
(mm)
Roller
Length
(mm)
Roller
Quantity
Magnetic strength
(GS)

Input

Cpacity
(t/h)
Motor Power
(kw)
Dimension
(mm)
Weight
(kg)

1

WCX1-60

320

600

1

3500-5000

Powder

0.5-0.8

MB07-0.75KW-C

1070*1510*1100

210

2

WCX2-60

320

600

2

3500-5000

Powder

0.5-0.8

MB15-1.5KW-C

1330*1550*1660

450

3

WCX2-80

320

800

2

3500-5000

Powder

1-1.5

MB15-1.5KW-C2

1330*1550*1660

880

4

WCX2-120

320

1200

2

3500-9000

Powder

1.5—3t

1.5kw*2

1800*1550*1660

950

PREV:Tire shredder

NEXT:Carbon black briquette machine