Tire shredder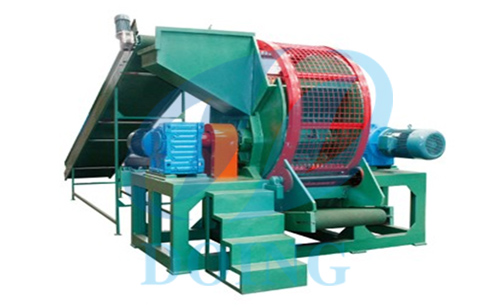 Factory direct sale contact number
Product introduction of tire shredder
For continuous tire pyrolysis process, it requires waste tires input size very small. This way the tire shredder is necessary. The tire shredder can crush whole tires into 3-5cm small pieces directly with automatic process. It has the compact structure, advanced technology, low power consumption, high efficiency, crushing room with folio structure, easy to maintain, etc. The machine adopts hard alloy steel as its blade, high rigidity and wearable, repeating and wearable, repeating repair use prolong use life.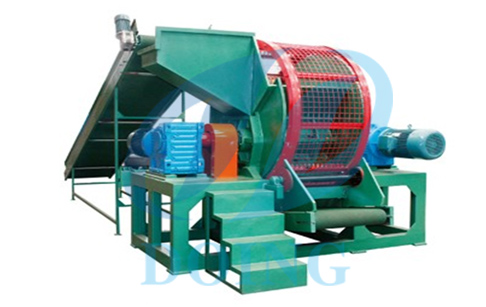 Working process of tire shredder


Waste tires can be sent to the shredder through the automatic feeding machine (feeding machine equipped with according to customer requirements), the main shaft of blade gets the medium speed rotation by motor, reducer, and then the waste material becomes the smaller pieces by cutting, squeezing, pressing, tearing way, coming out of the discharging hopper. In order to avoid the damage to the motor in the ultra currents, the electrical appliances equipped with protection function, configuration motor monitor, monitor the motor running current, surpassed the motor current, the host began to reverse about adjustable (10 seconds), after the material out, the host automatically forward again.
Technical data of tire shredder
| | | |
| --- | --- | --- |
| Model | DY-TS-900 | DY-TS-1200 |
| Tire size requirement | diameter ≤ 900mm | diameter ≤ 1200mm |
| Discharge size | 50 - 300mm (adjustable) | 50 - 300mm (adjustable) |
| Motor power | 2*22kw | 2*55kw |
| Dimension | 3450*2100*2400mm | 4100*2730*3300mm |
| Capacity | 0.8 - 1.5 tons/h | 2 - 3.8 tons/h |
| Screen power | 1.5kw | 5.5kw |
| Main shaft speed | 19rpm | 22rpm |
| Screen speed | 14rpm | 25rpm |
| Number of blades | 16pcs, made of alloy steel, welded | 20pcs, made of alloy steel, welded |
| Gearbox | harden gears, large torque | harden gears, large torque |
| Weight | 5.8 tons | 15.6 tons |
Leave your message for waste oil to diesel plant, we'll get back to you ASAP