Integrated waste tyre to diesel plant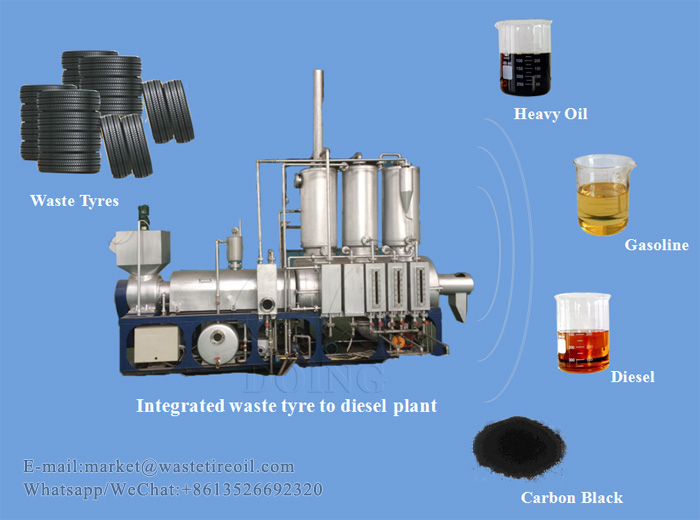 Factory direct sale contact number
In the past, if you want to convert tyres into diesel, then usually you need two kinds of machines. First you need pyrolysis plant to pyrolysis the tyre into tyre pyrolysis oil, then you need distillation plant to refine the tyre pyrolysis oil into diesel. But now DOING company has designed a highly integrated waste tyre to diesel plant.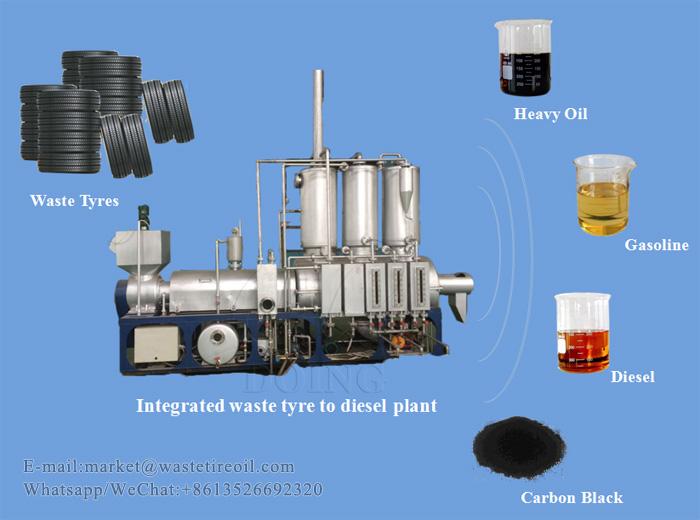 Integrated waste tyre to diesel plant
Using two kinds of machines means your investment scale will become larger, the plant will occupy more space, and the labor will cost more. Both of these plants are intermittent and cannot achieve full continuous production.
In order to save customers' investment costs and operating costs, our company has developed a new plant "Integrated waste tyre to diesel plant", which combines the pyrolysis plant with the distillation plant, through which the tyre can be directly converted into diesel. Its raw materials are not only tyres, but also plastics, rubber, medical waste, etc.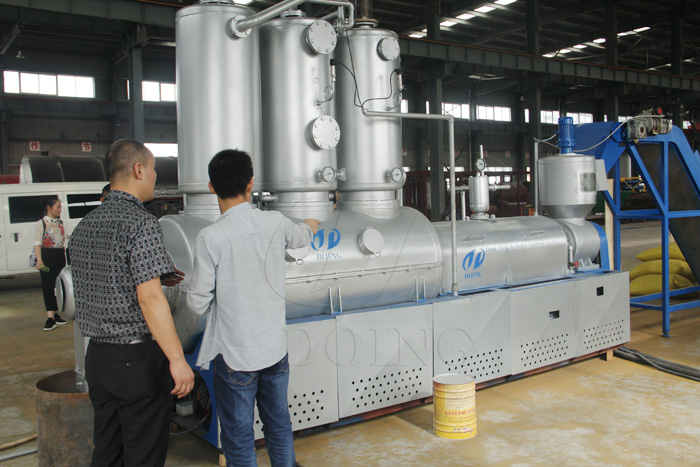 Integrated waste tyre to diesel plant operation site
The integrated waste tyre to diesel plant can make the final harmless treatment of waste tyre ,waste rubber and waste plastic and medical waste, and convert their chemical energy contained into diesel, gasoline, heavy oil and carbon black and syn gas.
The advantages of the integrated waste tyre to diesel plant:
1. Adopts fully automatic PLC control system, which is easy to operate and can realize full continuous production and save labor.
2. Integrated design with a small footprint and saves plant space.
3. This plant can not only produce diesel and gasoline, but also achieve the separation effect of diesel and gasoline.
4. The plant can use about 10% -12% of fuel or 75% - 85% of the syn gas self-produced as self-supply fuel source, and no need the external fuel supply.
5. This plant is an environmentally friendly plant with no harmful emissions other than carbon dioxide throughout the production process.
6. Adopts circulating water cooling and air-cooling heat dissipation. It can be used for a long time after adding water at a time, and a small amount of water is added regularly, and the water saving effect is very good.
If you want to convert tyres directly into diesel or want to invest in waste tyre to diesel projects, please contact us directly. Our project manager will give you a more comprehensive and detailed introduction.
Technical parameters of DOING integrated waste tyre to diesel plant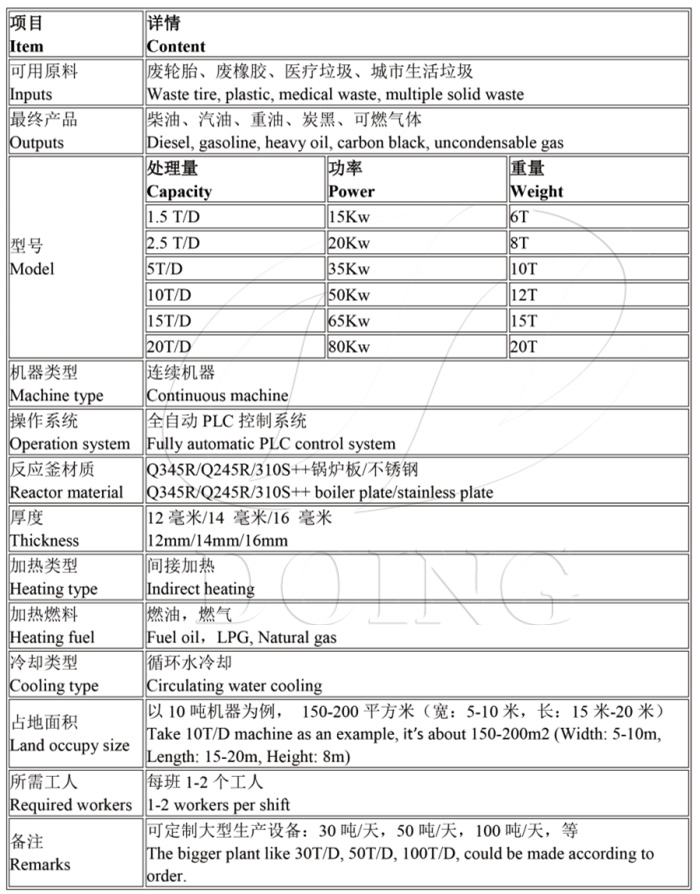 Technical parameters of integrated waste tyre to diesel plant
Final product applications: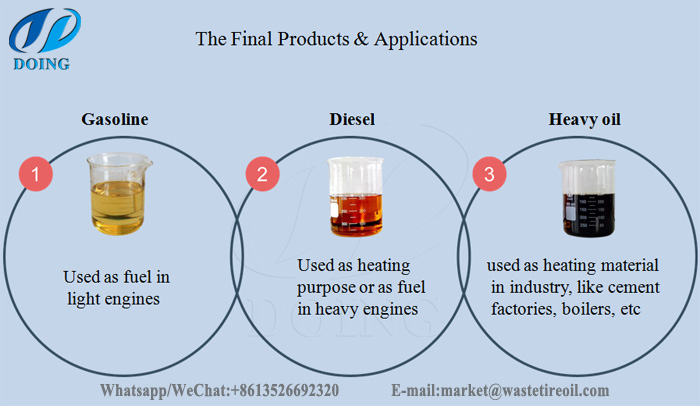 Carbon black:
It can be sold directly or briquette into pellets as the industrial heating instead of coal. The combustion value of carbon black is 7000kcal, which is equal to coal and charcoal. It can make further refining to as an additive for many kinds of rubber products.
Heavy oil
It is a kind of very good heating fuel, with 10592.48Kcal/kg heating value, which is much higher than that of coal. It has a good market in different countries. The fuel oil is widely used in boiler factory, cement factory, steel factory, brick factory, glass factory, heavy oil power plant,warm supply center and so on.
Syn gas
It will be recycled to heat the reactor.
Diesel and gasoline
they can be used in the diesel burner/generator/boiler. And after mix with standard diesel, it can be used in the car/truck/tractor.
Please feel free to leave your contacts here and your privacy is protected. A competitive quotation will be provided according to your detailed requirement within one business day.