Waste tyre recycling plant to fuel oil and carbon black
Factory direct sale contact number
Waste tyres to oil is a very hot and highly profitable green project, which can convert waste tyres to treasure (45% fuel oil, 35% carbon black and 15% wire steel)

Waste tyre recycling plant
DOING Mechanical has been dedicated to the research & development of the green pyrolysis technology for more than 10 years. And DOING waste tyre recycling plant project has spread all over the world including EU countries where environmental requirement is very high. DOING Mechanical is also a well-known manufacturer in Chinese pyrolysis industry with production capacity of 50 sets waste tyre recycling plant per month.
Pyrolysis is process of molecular breakdown where larger molecules are broken down into smaller molecules. In the process of waste tyre recycling plant, long chain polymer is broken down into smaller chains of Hydrocarbon Gas and Pyrolysis Oil. After further processing of oil distillation machine, this pyrolysis oil can be changed into diesel oil which can be directly used for diesel oil generators, tractors and trucks, etc.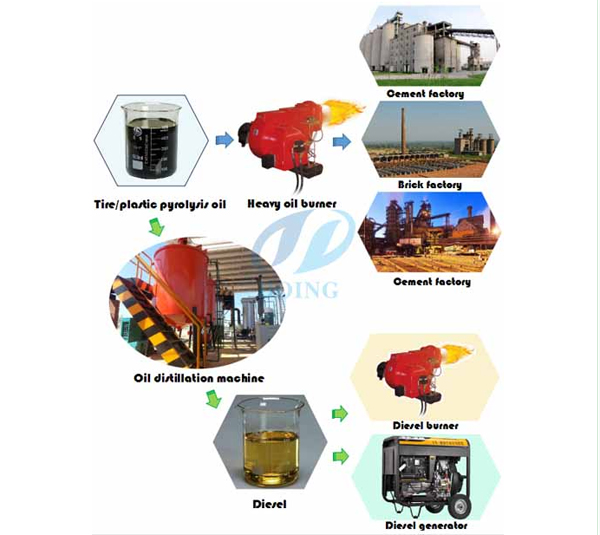 Waste tyre oil application
During pyrolysis, the polymer waste is not burned, instead it is broken down into usable finished products like Pyrolysis Oil, Hydrocarbon Gas and Charcoal. Waste tyre recycling plant can generate quality fuel with lower emission, control plastic and tyre land pollution, recover energy from waste and help recycle carbon.
For plastic/tyre waste management, pyrolysis is better alternative compared to incineration or dumping. Incineration is burning of waste which leads to loss of valuable energy from polymer waste. Dumping of polymer waste is known to cause land pollution. By pyrolysis of polymer waste, it is possible to recover value from waste in the form of waste tyre recycling plant, Hydrocarbon gas and charcoal.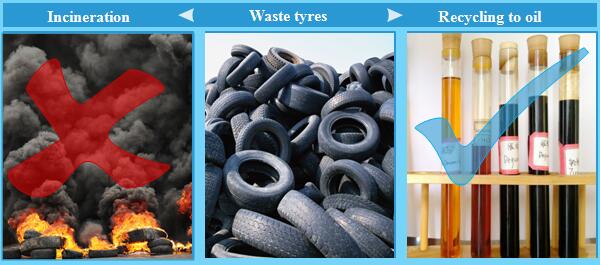 Waste tyre to oil better than incineration or dumping
We have waste tyre recycling plant installed in our workshop specially as the demonstration to customers. We are glad to provide our solutions to your waste management, please feel free to send your Inquires.

PREV:Tire pyrolysis oil refining machine

NEXT:Nothing
Please feel free to leave your contacts here and your privacy is protected. A competitive quotation will be provided according to your detailed requirement within one business day.