Recycled dirty motor oil to diesel plant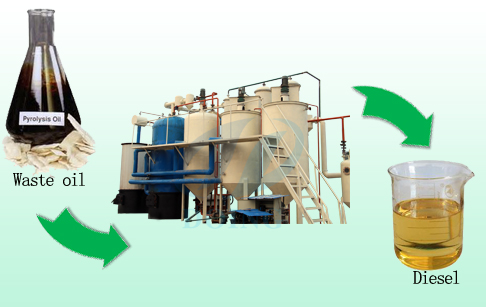 Factory direct sale contact number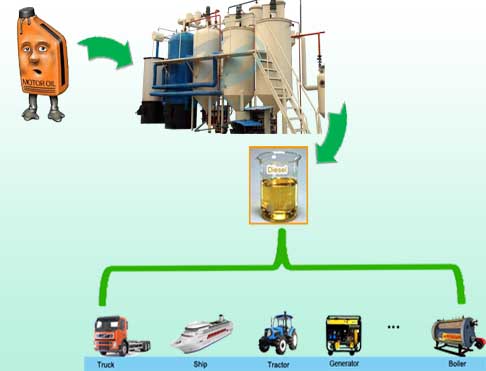 Recycled dirty motor oil to diesel plant
Recycled dirty motor oil to diesel plant adopts vacuum distillation process, can recycle about 85% yellow color base oil,waste motor oil is becoming a huge problem in our society.Waste motor oil is a problem that we all can take part in resolving.Used motor oil to diesel oil recycling equipment is a great way to give back to the community. Oil recycling, by using Doing new system, can generate usable diesel that many people still need and consume. Doing have been working on this ever-growing issue and have finally come up with a solution so we all can help recycle oil.
Recycled dirty motor oil to diesel plant features: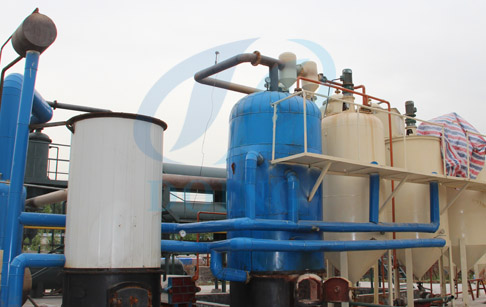 Recycled dirty motor oil to diesel plant
1.After 2 years' research and development, our refining technology is already mature.
2.Can refine 3 kinds of oil--waste rubber oil, plastic oil and waste motor oil.
3.The final oil can be directly used for diesel oil generator, trucks and vans, etc.
4.Indirect heating by boiler heating system can greatly increase the service life of our converting used motor oil to diesel fuel plant.
5.Three steps purifying process ensure final diesel pure and high quality.
Technical parameter of recycled dirty motor oil to diesel plant

Items

Contents

Model

DY-5t, DY-10t, DY-20t, DY-50t…

Raw material

dity motor oil, waste tire crude oil, plastic crude oil

Structure form

Vertical (easy cleaning and maintenance)

Heating method

Indirect heating to prolong the machine service life

Operating pressure

Constant pressure

Heating material

Coal, charcoal, fuel gas, fuel oil

Average out-put oil rate

95%

Material of reactor

4 reactor with different material

Thickness of reactor

18mm

Mode of cooling

Recycled water cooling

Power in total

20 Kw

Service life

average 7 years

Land area

180㎡
Recycled dirty motor oil to diesel plant end product application: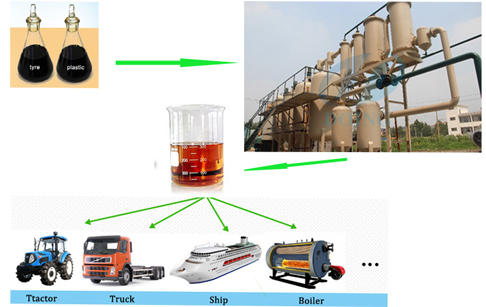 Diesel application
Leave your message for waste oil to diesel plant, we'll get back to you ASAP