Waste oil refining equipment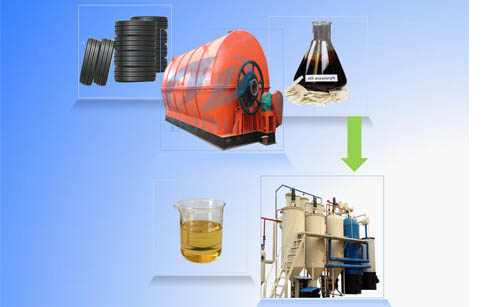 Factory direct sale contact number
Waste oil
Lubricant is used in various types of vehicles, machinery and equipment to reduce friction, protection of machinery and machining parts of the liquid or semi-solid lubricants, the main lubrication, auxiliary cooling, rust, cleaning, sealing and buffering role. In 2016, the lubricating oil consumption in China was 7 million tons, increasing by 3% -5% annually. With the increasing oil, resulting in more and more waste lubricating oil.
These waste oil generated on the soil and water quality have a great pollution, but after the scientific assessment of waste oil recovery rate is as high as 80%. In response to this social problem, DoingGroup has developed waste oil refining equipment.

Waste oil refining equipment main working process
The main work flow of waste oil refining equipment:
1. The waste oil into the tube heating furnace heating.
2. Distillate the oil vapor through the distillation process
3. Oil vapor through the condenser, fractionation of the base fuel oil
4. After sedimentation filtration, adding decolorizing agent, reconcile to become qualified fuel oil.

Advantages of waste oil refining equipment
Waste oil refining equipment advantages:

1. Reactor with vertical design, compared to my reactor, easier slag discharge.
2. Using base heating and thermal system double heating system, heating fast, short time.
3. Large capacity, can be customized according to the needs of production equipment.
Waste oil refining equipment

Technical parameter
Technical parameter of Waste oil refining equipment

Items

Contents

Model

DY-5t, DY-10t, DY-20t, DY-50t…

Raw material

motor oil, waste tire crude oil, plastic crude oil

Structure form

Vertical (easy cleaning and maintenance)

Heating method

Indirect heating to prolong the machine service life

Operating pressure

Constant pressure

Heating material

Coal, charcoal, fuel gas, fuel oil

Average out-put oil rate

95%

Material of reactor

4 reactor with different material

Thickness of reactor

18mm

Mode of cooling

Recycled water cooling

Power in total

20 Kw

Service life

average 7 years

Land area

180㎡
Waste oil refining equipment final products: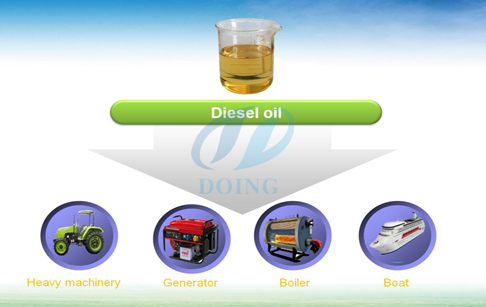 Diesel oil:Mainly used in heavy machinery,generatror,boiler.

Asphalt:Mainly used in paving,refinery.
Leave your message for waste oil to diesel plant, we'll get back to you ASAP