Waste oil into diesel oil equipment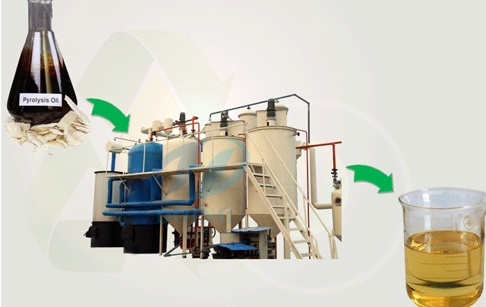 Factory direct sale contact number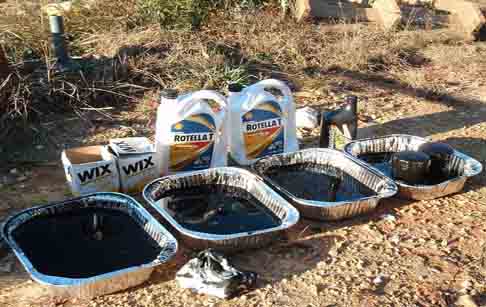 Waste

Lubricant

oil
Lubricant is used inside the car, can reduce the friction loss of the car's internal parts, reduce vibration, the car has a very important maintenance function. But over time, these lubricants will lose the original lubrication, into waste oil. These waste oil, if not handled properly, can pollute our environment. DoingGroup saw the business opportunities from these waste oil, developed a waste oil into diesel oil equipment.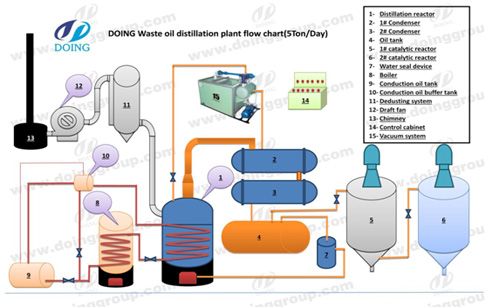 Waste oil into diesel oil equipment working process
DoingGroup waste oil into diesel oil equipment main working principle is as follows:
1. Using high-temperature distillation, part of the distillation of the fuel flow into the tank, the other part of the oil and gas into the condensing system.
2. After being condensed, liquefied into refined oil into the tank.
3. The refined fuel will eventually be degreased, decolorized. Get the final refined oil.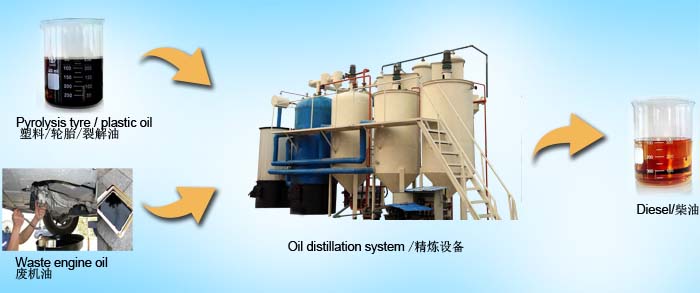 Waste oil into diesel oil equipment
DoingGroup's waste oil into diesel oil equipment mainly by the following advantages:
1.Large capacity
According to customer needs we can customize the equipment 10-100 tonnage. Of course, if the customer needs can also be customized small pilot production equipment.
2. Slag easy
Reactor vertical design, instead of horizontal design, this design can facilitate the removal of combustion residues in the furnace.
3.Fast heating
Waste oil to diesel equipment designed to double the heating system, both the reactor base heating, but also the thermal system heating. Can shorten the heating time, improve operating efficiency.
Waste oil into diesel oil equipment

Technical parameter
Technical parameter of waste oil into diesel oil equipment

Items

Contents

Model

DY-5t, DY-10t, DY-20t, DY-50t…

Raw material

motor oil, waste tire crude oil, plastic crude oil

Structure form

Vertical (easy cleaning and maintenance)

Heating method

Indirect heating to prolong the machine service life

Operating pressure

Constant pressure

Heating material

Coal, charcoal, fuel gas, fuel oil

Average out-put oil rate

95%

Material of reactor

4 reactor with different material

Thickness of reactor

18mm

Mode of cooling

Recycled water cooling

Power in total

20 Kw

Service life

average 7 years

Land area

180㎡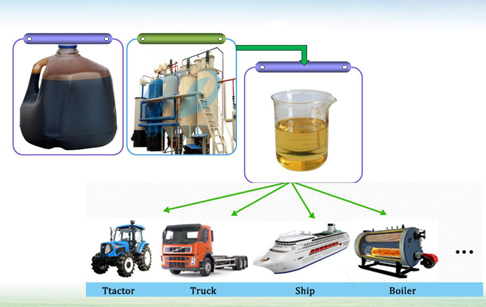 Waste oil into diesel oil equipment final products application
Run the waste oil into diesel oil equipment can be refined oil and asphalt, the main purpose of these end products are as follows:
1. Refined oil: mainly used in diesel generators, light fuel, heavy machinery.
2. Asphalt: can be used directly for paving, asphalt plant can also be used for refining.
Leave your message for waste oil to diesel plant, we'll get back to you ASAP