What is the quality of the diesel produced through waste oil distillation plant?
Diesel from waste oil distillation plants is typically a high-quality fuel that can be used in a variety of applications. In this article we will look at the quality of diesel produced in waste oil distillation plants in more detail.
The waste oil to diesel is a non-standard diesel that should generally have similar characteristics to ordinary petrochemical diesel, including high energy content and good combustion characteristics.
- High energy content
The high energy content of the fuel means that it provides more power when combusted, making it a popular choice in many industries. It has a wide range of applications and can be used for trucks, trailers, agricultural machinery, heavy machinery, ships, and diesel engines, etc..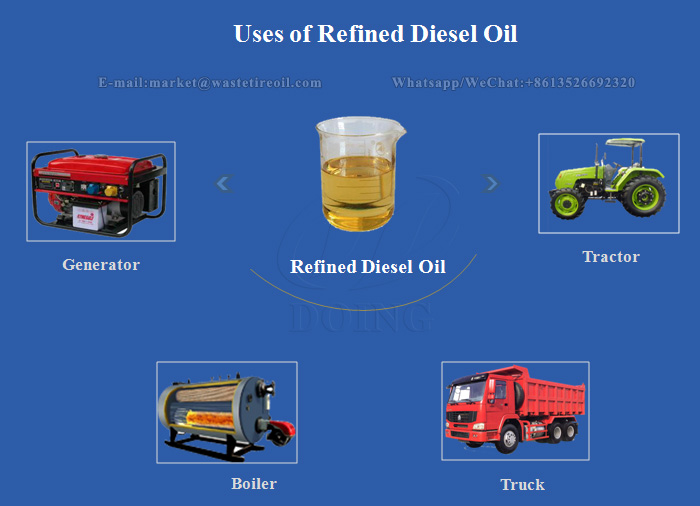 The appliactions of diesel produced from waste oil

- Good combustion characteristics
The waste oil to diesel oil has good combustion characteristics, meaning that it burns cleanly and completely. The combustion efficiency of the fuel can help reduce the formation of pollutants and increase engine performance and fuel economy.
However, the quality of diesel produced by waste oil distillation may vary due to various factors, such as different raw materials used and different distillation machines, which may result in different quality of diesel produced in the end.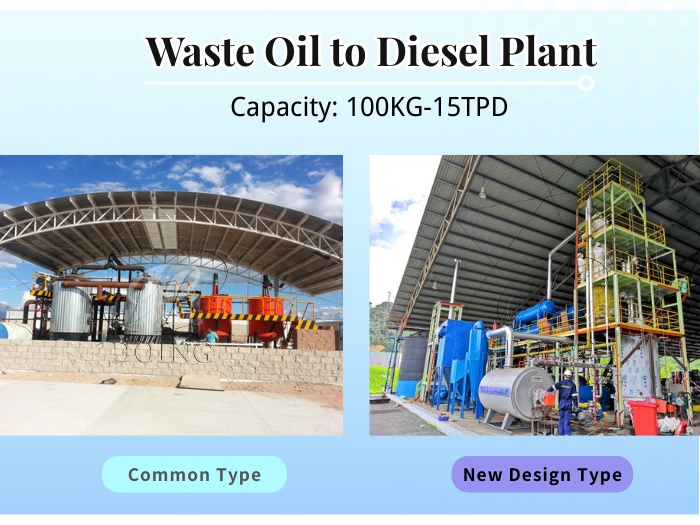 DOING waste oil distillation plants

The raw materials for distillation machines are roughly divided into three types: tire plastic pyrolysis oil, waste engine oil, and liquid oil sludge.
-Compared with plastic pyrolysis oil, tire oil has a higher sulfur content than plastic oil, and the sulfur content of the two oils cannot be effectively reduced. It can be known that the diesel quality obtained after refining plastic oil will be better.
-Waste engine oil includes engine condensate, waste motor oil, waste lubricating oil, etc.. It contains a lot of water and impurities. Refined diesel can remove impurities, resulting in better purity and color quality.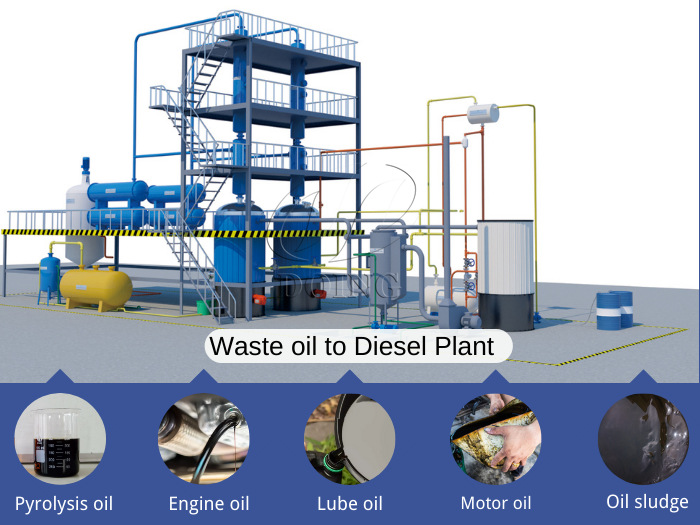 The raw materials of waste oil distillation plant

-The third type is liquid sludge. Half of this raw material comes from mudflat and ship ports where crude oil is exploited. Because it is crude oil, the quality of refined diesel oil after refining is better than that of refined diesel oil from cracking oil and waste engine oil.
No matter what type of waste oil it is, you need to choose the appropriate waste oil distillation plants to obtain high-quality diesel. DOING has been engaged in the production and sales of waste oil distillation plants for many years, and our technology is mature. Our waste oil to diesel refinery machine has the characteristics of high efficiency, high oil yield and high quality, and has been sold to more than 90 countries and regions around the world. If you have any needs, please feel free to contact us.
Please feel free to leave your contacts here and your privacy is protected. A competitive quotation will be provided according to your detailed requirement within one business day.